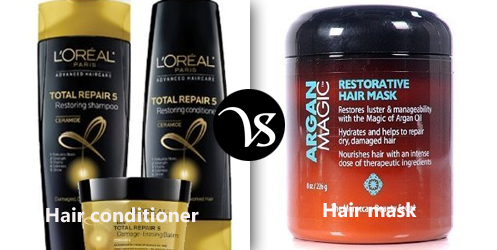 Hair conditioner:
Hair conditioner is the hair product which is used to change the texture and appearance of hair. It provides moisture to the hair. It is usually kept for two to three minutes.
Hair mask:
Hair mask is the hair product which keeps the hair in proper shape. Hair masks can be made at home also. It is kept for at least fifteen minutes after application.
Differences:
Basis
Hair conditioner
Hair mask
Definition
A liquid applied to the hair after shampooing to improve its condition
(www.oxforddictionaries.com)
A hair mask is a moisturizing treatment for hair.
Kept for
One or two minutes
Atleast for fifteen minutes or more depending upon the type of hair mask
Frequency
Generally, more regularly
Comparatively less regularly
How to apply
Conditioner can be applied by starting from the roots and gradually moving towards the ends. It should be left for a few minutes and then it needs to be rinsed thoroughly.
It is often advised to thoroughly coat all the hair with a face mask mixture. It is also advised to to use a shower cap during the application as it prevents dripping. After fifteen to twenty minutes, rinse thoroughly.
Use
Conditioning must be done after shampooing as it assists in the replacement of the moisture

Hair masks are need to be applied before washing hair
Pronunciation

Eng (UK): /hɛː/ /kənˈdɪʃ(ə)nə/
Eng (US): /her/ /kənˈdiSH(ə)nər/

Eng (UK): /hɛː/ /mɑːsk/
Eng (US): /her/ /mask/

Advantages/Benefits
Its benefits are:

Moisturize hair
Hydrates follicles
Makes hair glossy, soft and protects them from pollution and dust
Nourishes hair and makes them stronger and more manageable

Its benefits are:

Easy process
Increase hair quality
Easy to find ingredients
Fast process
Relaxation
Quality ingredients

Disadvantages
Its disadvantages are:

Harmful chemicals
Makes scalp oily

Its disadvantages are:

Using too often makes hard to style

Example in Sentence

Conditioner makes the hair smooth.
I always use conditioner after using shampoo.

She uses hair mask once a month.
Egg hair mask is better for dry hair.