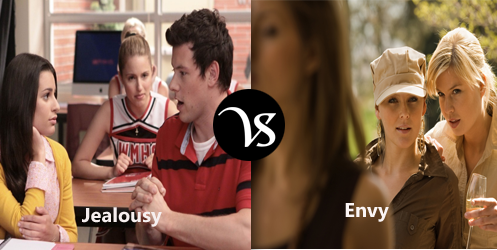 Jealousy:
Jealousy is the feeling that others will take away something you have. It is the negative feeling towards someone. It is the feeling of insecurity and fear.
Envy:
Envy is the emotion of desiring what someone has. It occurs when the one lacks something. It may be for status, possessions, power and wealth.
Differences:
Basis
Jealousy
Envy
Definition
(www.oxforddictionaries.com)
The state or feeling of being jealous
A feeling of discontented or resentful longing aroused by someone else's possessions, qualities, or luck
Synonyms
Distrust, grudge, rivalry, insecurity, suspicion, resentment
Desire, discontent, rivalry, invidia, enviousness, covet
Antonyms
Kindness, distraction, lenity, forbearance, goodwill, trust
Confidence, bounty, breadth, assistance, generosity, kindness
Types
Its types are:

Romantic jealousy
Work or power jealousy
Friend jealousy
Family jealousy
Abnormal jealousy

Its types are:

jealous of a friend's good fortune
feel envious someone else is getting attention you want from a particular person
jealous of something your friend or classmate can do better than you
envious of your sister or brother

Word origin
The word jealousy was originated from Middle English: from Old French gelosie, from gelos.
The word envy was originated from Middle English (also in the sense 'hostility, enmity'): from Old French envie (noun), envier (verb), from Latin invidia, from invidere 'regard maliciously, grudge', from in- 'into' + videre 'to see'.
Pronunciation

Eng (UK): /ˈdʒɛləsi/
Eng (US): /ˈjeləsē/

Eng (UK): /ˈɛnvi/
Eng (US): /ˈenvē/

Advantages/Benefits
Its benefits are:

Window into your soul
Strengthen relationships
Can be a driving force to succeed

Its benefits are:
Disadvantages
Its demerits are:

Jealousy causes unnecessary drama
Jealousy causes confusion
Jealousy wrecks relationships
Jealousy is another form of selfishness
Jealousy is destructive to the other person's self-esteem

Its demerits are:

Ruins life
Influence dignity and reputation

Example in Sentence

Jealousy made the people miserable.
It was jealousy that made her so angry.

My friend is envy of my success.
My mother told me not to envy of others.