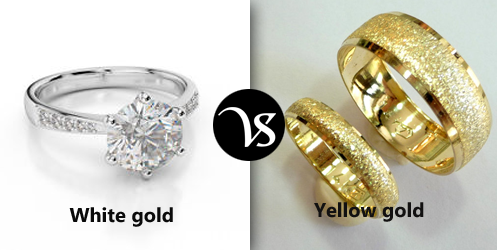 White gold:
White gold is the mixture of pure gold and white metals such as silver, manganese or nickel. Its purity is expressed in karats. As the white gold is coated with rhodium it is shiny.
Yellow gold:
Yellow gold is the mixture of pure gold with alloy metals such as copper and zinc. It is the most popular metal. It suits the people with warm skin tones.
Differences:
Basis
White gold
Yellow gold
Definition
(www.oxforddictionaries.com)
A silver-coloured alloy of gold with nickel, platinum, or another metal.
A yellow precious metal, the chemical element of atomic number 79, used in jewellery and decoration and to guarantee the value of currencies.
Synonyms
Alloy, white metal, gold nickel alloy
Golden, Bullion, Metal, nickel, treasure and zinc
History
White gold was invented in the 19th century where it was alloyed with palladium. It became commercially available as of 1912 in Pforzheim, Germany and gained popularity in the mid-1920 as a low cost substitute for platinum.
Gold artifacts found at the Nahal Kana cave cemetery dated during the 1980s, showed these to be from within the Chalcolithic, and considered the earliest find from the Levant (Gopher et al. 1990).
Word origin
The word white gold was originated in between 1660-70.
It was originated from Old English, of Germanic origin; related to Dutch goud and German Gold, from an Indo-European root shared by yellow.
Pronunciation

Eng (UK): /wʌɪt/ /ɡəʊld/
Eng (US): /(h)wīt/ /ɡōld/

Eng (UK): /ˈjɛləʊ/ /ɡəʊld/
Eng (US): /ˈyelō/ /ɡōld/

Made of
White gold is an alloy of gold mixed with another metal to whiten its color, making it closely resemble platinum.
Yellow gold is made from pure gold with alloy metals such as copper and zinc
Advantages/Benefits
Its merits are:

More affordable than platinum.
Has been more popular than yellow gold for many years.
White gold is alloyed with stronger metals than yellow gold and thus is more durable and scratch-resistant.
White gold complements white diamonds better than yellow gold, according to some opinions.
Complements fair or rosy skin tones.

Its merits are:

Historically, most popular metal used for wedding and engagement bands, and thus appropriate for vintage style settings.
Symbolic of the best, like winning a gold medal for first place.
Yellow gold is the purest color of all the colored golds, as the mineral looks golden (yellow) when mined.
The most hypo-allergenic of all the gold colors.
Requires the least maintenance of all the gold colors.
Most malleable, easiest for jewelers to manipulate.
Complements olive and darker skin tones.
Can be matched with lower color diamonds.

Disadvantages
Its demerits are:

Considered by many to be the most romantic metal due to its pinkish-red color.
May be more affordable than other metals since copper — the alloy used to make rose gold — costs less.
Copper is also very durable and makes rose gold a tougher metal than yellow or white gold.
Rose gold is very much in style for both men's and women's rings.
Complements all skin tones.

Its demerits are:

Does not complement pale or rosy skin tones.
Should be polished and cleaned regularly.
Can be dented and scratched.

Example in Sentence

How much the white gold costs?
The white gold ring is of 21 carat.

Yellow gold is so much common.
His ring is yellow gold.