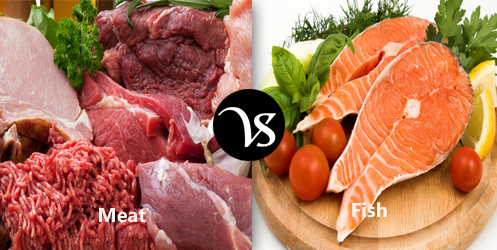 Meat:
Meat is the flesh of animals which is used as food. It is rich in protein. It can be eaten raw also but it is mostly cooked before eating. Meat has become an essential part of diet for many peoples. It is also the main source of vitamin B12.
Fish:
Fish is the part of seafood which is consumed as a meal. It is low in fat but high in protein. It is also filled with vitamins and omega-3 fatty acids. It doesn't take much time to cook like meat. It can be prepared by broiled, steamed, grilled, poached and baked.
Differences:
Basis
Meat
Fish
Definition
(www.oxforddictionaries.com)
The flesh of an animal, typically a mammal or bird, as food (the flesh of domestic fowls is sometimes distinguished as poultry)
A limbless cold-blooded vertebrate animal with gills and fins living wholly in water
Synonyms
Flesh, beef, crux, meal, center, food
Fluke, hake, trout, grope, clam
Types
Its types are:

bacon
beef
bushmeat
chicken
crab
dark meat
duck
goose
ground beef
horse flesh
lamb
lean
meatball
mince
mutton
partridge
pork
quail
rabbit
red meat
stewing steak
streaky bacon
turkey
veal
vension
white meat
wild boar

Its types are:

Albacore tuna
Salmon
Oysters
Pacific halibut
Rainbow trout
Freshwater coho salmon
Atlantic mackerel
Sablefish
Sardines pacific

Word origin
The word meat was originated from Old English mete 'food' or 'article of food' (as in sweetmeat), of Germanic origin.
The word fish was originated from Old English fisc (as a noun denoting any animal living exclusively in water), fiscian (verb), of Germanic origin; related to Dutch vis, vissen and German Fisch, fischen.
Derived from
It is derived from sheep, cows, pigs, cattle, etc.
General salt water fishes are used, which also includes shellfish such as molluscs, crustaceans and echinoderms.
Cooking time
It takes more time to cook as compared to fish.
It takes less time to cook as compared to meat.
Quantity
It has a high quantity of fat.
It has a high quantity of protein.
Eaten
It is eaten as a part of meal.
It can be eaten as part of or the whole meal.
Cooked by
It is cooked by grilling, stir-frying, boiling and in a pressure cooker.
It is cooked by baking, grilling, broiling, steaming and poaching.
Used in
Steaks, pork sandwiches, meat stew and curries, etc.
Sushi, sashimi, pickled herring, smoked dishes, etc.
Pronunciation

Eng (UK): /miːt/
Eng (US): /mēt/

Eng (UK): /fɪʃ/
Eng (US): /fiSH/

Advantages/Benefits
The benefits of eating meat are:

Protein
Iron
Improve functional ability
Boosted immunity
Energy

The benefits of eating fish are:

Rich in nutrients
Lower the risk of heart disease
Treat depression
Good dietary source of Vitamin D
Reduced Risk of Autoimmune Diseases, Including
Type 1 Diabetes
Prevent Asthma in Children
Protect Your Vision in Old Age
Improve Sleep Quality

Example in Sentence

I kept the remaining meat in a refrigerator.
She eats a meat-free diet.

I would like to include fish to my diet.
I caught a fish yesterday.