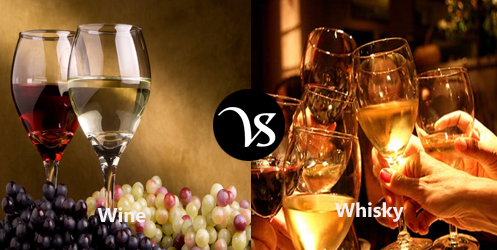 Wine:
Wine is an alcoholic beverage which is made from the fermented grapes. Wine is classified into two types: red and white wine. Wine can be made from any fruits such as apple, plums, cranberries, etc.
Whisky:
Whisky is an alcoholic beverage which is made from the grains such as barley, maize, wheat and rye. It is aged from a year to decades.
Differences:
Basis
Wine
Whisky
Definition
(www.oxforddictionaries.com)
An alcoholic drink made from fermented grape juice
A spirit distilled from malted grain, especially barley or rye
Synonyms
Sherry, champagne, vino, liquor, alcohol, booze
Scotch, rum, bourbon, chariot, gin
Types
Its types are:

Red Wine
White Wine
Champagne, etc.

Its types are:

Single malt whisky
Blended malt whisky
Blended whiskies
Cask strength
Single cask, etc.

History
The earliest archaeological evidence of wine production yet found has been at sites in Georgia (c. 6000 BC), Iran (c. 5000 BC), Greece (c. 4500 BC) and Armenia (c. 4100 BC), where the oldest winery to date was uncovered.
The first confirmed accounts of whisky distillation are from the early 15th century, when the Irish and Scottish distilled it, calling it "Aqua Vitae" (Water of Life / Lively Water), for medicinal properties.
Word origin
The word wine was originated from Old English wīn, of Germanic origin; related to Dutch wijn, German Wein, based on Latin vinum.
The word whisky was originated in Early 18th century: abbreviation of obsolete whiskybae, variant of usquebaugh.
Produced in
Italy, France, Spain, America, Argentina, Chile, China, India, etc.
Scotland, England, Ireland, America, Canada, Australia, India, Denmark, Germany, etc.
Pronunciation

Eng (UK): /wʌɪn/
Eng (US): /wīn/

Eng (UK): /ˈwɪski/
Eng (US): /ˈ(h)wiskē/

Alcohol Content
Natural wines may exhibit a broad range of alcohol content, from below 9% to above 16% ABV, with most wines being in the 12.5%–14.5% range. Fortified wines (usually with brandy) may contain 20% alcohol or more.
Usually contains between 40-50% alcohol, however, it can be made to contain up to 96% alcohol.
Made of
Wine is made from fermented grapes.
Whisky is made from grains such as barley, maize, wheat and rye.
Advantages/Benefits
Its advantages are:

Lose weight
Keeps heart healthy
Reduce forgetfulness
Boost immunity
Help prevent bone loss

Its advantages are:

Boost memory
Stress relief
Fight weight gain
Reduce the risk of stroke
Reduce the risk of cancer
Helps with digestion
Live longer
Diabetic friendly
Improve heart's health
Improve the health of brain
Prevent and treat cold and flu

Disadvantages
Its disadvantages are:

Sleep deficiency
Obesity
Heart disease
Fertility
Pancreatitis

Its disadvantages are:

The pancreas, the mouth, pharynx, esophageal, breast and liver are more likely to be affected by cancer
Pancreatitis may appear, especially in youth
Stroke
Atrophy of the brain
Cirrhosis
Pregnancy problems, like spontaneous abortion
Possible malformations and other birth problems of the fetus
Car accidents
Suicidal tendencies
Sudden death in case of cardiovascular problems
Cardiophaty generated by alcohol

Example in Sentence

You can order fish to complement wine.
She gave him a bottle of wine as a gift.

He ordered four glasses of whisky.
I handed him a glass of whisky.